Wycombe vs Lilywhites
The FA Cup 4th Round: Monday's match

PREVIEW & REACTIONS: Wycombe Wanderers vs Spurs is live [from Adams Park] online in the US via ESPN+ and televised in the UK on BT Sport.
Some of the big stars currently at Tottenham Hotspur will obviously be rested with the crucial Liverpool league match coming up days later, so expect to see Erik Lamela, Gareth Bale and Carlos Vinicius continue as domestic cup demons instead of the likes of Son and Kane. Lo Celso, Aurier, Dele, Docherty are all likely out, either injured, sick, or other reasons.
So Tottenham are still in both domestic cups, a chance to win the Prem, and going strong in Europa, and legend decrees that "when the year ends in 1", with the help of Lady Luck, the club is destined to win a trophy.
If Spurs win this match they'll play Everton next who swept aside their fourth round opponents on Sunday. Those opponents were strife-torn Sheffield Wednesday who [at the time of writing] sit 2nd to bottom of the Championship [England's 2nd tier] with only Wycombe below.
"Second-string Spurs to ease past struggling Chairboys" opines Betfair: "If Wycombe line-up weaker than their usual starting XI against a strong Tottenham side then expect to see the away team scoring three or four goals quite easily."
Wanderers are hurtling out of the Championship and it's likely they will indeed rest players to try to stave off relegation even though their predicament looks hopeless.
Please check back for reactions during and after the match.
FA Cup 5th round draw
Everton vs Wycombe or SPURS
Manchester U. vs West Ham
Swansea vs Manchester C.
Barnsley vs Chelsea
Wolves vs Southampton
Leicester vs Brighton
Burnley vs Bournemouth/Crawley
Sheffield U. vs Bristol C.
---
Prem league action
Spurs blunt Blades
Lilywhites superbly seal the win



Sun, Jan 17, 2021 (Ssn 2020/21)
Sheffield United 1
Tottenham Hotspur 3
Bramall Lane, Sheffield, Yorks. Highlights
US live: TV = NBCSN; Net = fuboTV, Sling, Hulu.
2nd Half: Non stop action in this amazing 2nd half as the game exploded with THFC still maintaining clear overall control. Now, can Spurs hold it together for the final 15 mins? Turns out, yes. This is how to steer a win over the line. It can be done with style. Excellent from Spurs. That said, this was opposition firmly rooted at the foot of the table but that didn't stop them from fighting.
The frenetic action continues with a fourth fine goal in this amazing match with Ndombele potentially stealing the show with Tottenham's third, assisted by Bergwijn. BBC Football: "The ball is played to Tanguy Ndombele on the left corner of the six-yard area. The midfielder has his back to goal, with two Blades defenders for company, but flicks the ball over him, over the reach of Aaron Ramsdale and into the far corner."
Second half now underway still 0:2 as Spurs are poised to pocket three invaluable points. No signs of the "Mouro panic shell" as yet as the Lilywhites are managing the game well -- so far. Spoke too soon - United pull one back, a beaut as John Fleck pumps into the mixer and McGoldrick scores.
1st Half: Tottenham Hotspur scored an early goal from Serge Aurier's head off a Son Heung-min corner kick. Son Heung-min hits the post. Then in the 40th min Hojbjerg feeds a central thru ball to Harry Kane just outside the penalty area for a superbly worked second goal. Son's running off the ball as he peeled away from Hojbjerg helps keep the space open for this nifty move. Kane is now THFC's third highest all-time scorer behind #2 Bobby Smith and #1 Jimmy Greaves.
Preview: Tottenham Hotspur first played Sheffield United in the FA Cup final in 1901 at the original Crystal Palace stadium in SE London, which Spurs, a non-league side at the time, went on to win the replay in Bolton. The only non-league side ever to win the FA Cup.
MAN OF THE MATCH: The fanometer of the internet currently giving Harry Kane the edge over Tanguy Ndombele.
---
Prem action 2020/21
Spurs fans shell shocked
2 ace crosses & headers share spoils



Jan 13, 2020
Tottenham Hotspur 1
vs Fulham 1
More reactions to follow with Rob Francis
Guardian football weekly podcast reaction.
BBC football daily on-air reaction. Host: "One win in six premier league games, to win the league you don't feel that is going to be enough."
Rolling Reactions: Tottenham fans are shocked by the propensity of Spurs to, as Lanespurs [Guardian reader] describes it: "Go 1-0 up, miss a few chances to make it 2-0, sit back, invite pressure, concede, panic at the end to try and get the winner." This is not right for a team of such talent. We gotta get out of our mindlessly defensive shell whose meagre spoils are not putting enough food on the table. George Achillia: "Where was the passion?"
Son Heung-min hit the upright in a chance that, had it gone in, would have seen Spurs squeeze out the win. As it was, Fulham finished the stronger side and this match continues the arguments over whether Mourinho's "defend one goal and counter when possible" philosophy is really the right approach for Spurs to truly reach for the stars.
"Yet more points chucked away. Like Palace, Fulham showed us how to play with purpose. We have an embarrassment of riches up front and they look completely impotent thanks to Jose's set up. We rely on picking the opposition's pocket then become a sitting duck. It's a dreadful spectacle and we've managed to come unstuck time after time with it this season." -- Harry. "Cue Mourinho saying 'I didn't tell them to sit back and defend a 1-0 lead, I've no idea why they do that over and over again'. Excruciating to watch." -- Clive [BBC reader match report comments].
"What does it say of Fulham this season that we can draw a game away to Mourinho led Tottenham Hotspur and I am disappointed that we weren't able to take the victory?" ZeeZeeTop Fulham [Guardian reader match report comments]. And what does it say of Tottenham not so Hot Spur?
Results by the end of the season in the all-important prem [not so much the cups] will determine the outcome, and drawing at home, albeit to a Fulham side that actually played well and certainly with more purpose than the home side, is not enough of a dividend to ultimately keep ownership and management happy, fans likewise.
Second Half: We're underway with the second half. 75th minute Fulham equalize with a header similarly brilliant to the Reguilon/Kane move that gave Spurs the lead way back in the 1st half.
First Half: We're underway. Should be able to eke out three points. Watching on delay owing to other commitments. Still 0:0 in my parallel universe.
COYS. Spurs had the best early chance with a Reguilon effort but Fulham actually more on the front foot early doors. Spurs central full-back Eric Dyer hobbling.
Cameroonian star Zambo Anguissa comes close for the SW London visitors, then in the 18th minute dynamic Anguissa in action at the other end denies a Son Heung-min shot from going in. Now Harry Winks needing treatment.
24th minute superb Fulham save from Son's header, but one minute later Reguilon's sublime cross from the left flank finds Kane's scoring header for game's first goal.
Please check back.
---
Up for the FA Cup


Alfie's Devine!
Brazil 4, Alfie won
Jan 10, 2021 [Season 2020/21]. US=ESPN+. Highlights
Marine FC 0 Tottenham Hotspur 5

Both Marine & Spurs fans, and doubtless many other footie fans as well, shelled out to help the Crosby club, as The Guardian's Andy Hunter describes: "Marine launched a virtual ticket appeal to compensate for [GBP] 100,000 [pounds] in commercial revenue that stood to be lost when the game was moved behind closed doors. When the final whistle blew on Spurs' professional victory over 30,000 tickets had been sold and over [GBP] 300,000 raised."

It was a brilliant coming together of those who love the beautiful game but also prompts us to wonder what in the heck is gonna happen to hundreds, even thousands, of clubs around England and Wales [and elsewhere in the globe's lower leagues] who aren't so blessed? Yes, Marine did incredibly well to get this far and did not embarrass themselves, but only a very few "non-league" clubs can get themselves into this position per season. The fallout's gonna be frightening. Daunting.

On the field Carlos Vinicius was for many the star of the show with a hat trick. It was like watching Brazil with Lucas Moura also notching one to make it 4 "Brazilian goals" for Tottenham before the young Warringtonian from England Alfie Devine nabbed #5 for his new club. And along with these two let's also give props to out of favor Dele Alli who nonetheless showed he's not to be counted out, when he's in gear he's still got the flair and a canny knack for the game.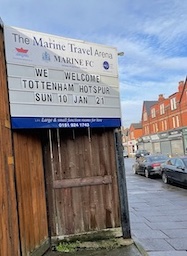 Even without fans
inside, viewers
watched worldwide
As MSN [via Liverpool Echo]'s Sam Carroll wrote regarding the 16-year-old former Liverpool FC youth player and Wigan prospect: "Alfie Devine was fast-tracked to first-team training by Mourinho and scored on his debut at the Marine Travel Arena on Sunday. He became Spurs' youngest scorer at 16 years and 163 days old."
Preview: So Tottenham are in a cup final, and this next match is another knockout encounter, this time in the other domestic one, the FA Cup, away to Marine FC from Crosby in Merseyside, NW England, about eight miles north of Liverpool city center and about six miles north-west of Everton FC and Liverpool FC.
Feel free to check back here at The Spur as on this particular occasion there'll be a delay in reacting due to another demand involving our ever popular Sunday shift lead operator.
Marine FC vs Tottenham Hotspur on Sunday. Build-up, coverage and reactions all here at The Spur of the FA Cup encounter that is being lauded for enhancing the romance of this tournament, with its propensity for brilliant match-ups pitting tiny local community clubs against some of the world's biggest and best known footballing sides. Including of course our very own THFC.
---

Citeh in League Cup final
Spurs 2 Brentford 0
LEAGUE CUP SEMI-FINAL REACTIONS: club site highlights
BBC match report: "Brentford had beaten four Premier League sides in a run to their first major semi-final but they were behind after only 12 minutes when Sissoko headed Sergio Reguilon's cross beyond keeper David Raya."
Guardian match report: "Son Heung-min's 16th of the season sealed Tottenham's victory and in the April final they will meet the winners of Wednesday's showdown between Manchester United and Manchester City."
So Tottenham are in a cup final, and the next match is another knockout encounter, this time in the other domestic one, the FA Cup, away to Marine FC from Crosby in Merseyside, NW England, about eight miles north of Liverpool city center.
Spurs fans had tried to snap up tickets [with Marine at one point offering also to give tickets to both club's season ticket holders] before the just announced latest England covid lockdown which now includes banishing supporters from the tiny club's ground, so all the excitement of an in-person away day dissolved. Game to be savored though for those who cherish an archetypal David vs Goliath cup match-up.
---
Premier action
Hooray for Jose
Spurs boss rises to the call



Tottenham Hotspur 3
Leeds United 0
US TV:NBCSN Net:Fubo,Sling,Hulu - Jan 2, 2021 (20/21). Highlights
Match: Well credit to Jose Mourinho who responded to the hailstorm of criticism after Tottenham Hotspur parked the bus against Wolves for almost the entire game after a very early goal only to let the win escape. This time his adjustments were perfect and the result was a professional enjoyable game that highlighted the natural talents of a top shelf cast of players whose skills were allowed to shine. And Leeds are at least as good as Wolves, perhaps better, at the minute.
Ater this result Tottenham are third on goal difference. The telepathic Son/Kane magic which resulted in the second goal caused the South Korean to celebrate 100 in the onion bag for mighty Spurs and set the two on their way to becoming the most prolifically dynamic duo in the all-time records of England's top flight. History will look back at the magical Son/Kane partnership the same way as Spurs fans look back at the likes of Greaves and Gilzean as magical experiences and yet this time it's happening again before our very eyes only on an even more successful scale.
On a note for far flung fans of the Lilywhites in different time zones, the moral of the story was that if, for example, you live on the US west coast and 4am is too early to watch "live", don't read the front page of The Guardian before watching the match on cloud DVR because, for better or worse, that august publication chose to make the Spurs result front page news as opposed to being tucked away in the football section. Still, it saved a bunch of stress knowing we would win before even finishing the first cuppa.
All is rosy again for the north Londoners on the field but off the field both clubs are trying to sort out unseemly PR shockers with several Spurs players partying through Covid -- and for Leeds much worse as misogyny was alleged to be running rife within the club, not just because of the alleged egging on of a tweetstorm against Karen Carney but that even the very top level of the controversial Yorkshire sporting institution appeared to laud the attacks on the former England international turned TV pundit before the club eventually sobered up and reigned in.
Women in Football post: "Whether you agree with the comment or not, singling out & ridiculing an individual on an official club account is not what we're here for. Karen Carney is a well-informed pundit. This tweet is inciteful & inappropriate. Not a good look now, or at any time."
Preview: Back in Aug 23 of 2003, Spurs, managed by Glenn Hoddle, started as below's line-up to beat Leeds 2-1 in the league at home:
&nbsp&nbsp&nbsp&nbsp&nbsp&nbsp&nbsp&nbsp&nbsp&nbsp&nbsp&nbsp&nbsp&nbspTottenham Hotspur FC
&nbsp&nbsp&nbsp&nbsp&nbsp&nbsp&nbsp&nbsp&nbsp&nbsp&nbsp&nbsp&nbsp&nbsp&nbsp&nbsp&nbsp&nbsp&nbsp&nbsp&nbsp&nbsp&nbspKeller (GK)
Gardner (CB) -- King (CB) -- Richards (CB)
&nbsp&nbspCarr (RWB)&nbsp&nbsp&nbsp&nbsp&nbsp&nbsp&nbsp&nbsp&nbsp&nbsp&nbsp&nbsp&nbsp&nbsp&nbsp&nbsp&nbsp&nbsp&nbsp&nbspTarrico (LWB)
Davies (RMF) -- Redknapp (CMF) -- Ricketts (LMF)
&nbsp&nbsp&nbsp&nbsp&nbsp&nbsp&nbsp&nbsp&nbsp&nbsp&nbsp&nbspPostiga (S) -- Zamora (S)
The Spur reacted: "Of all the many elements to savour about this triumph, perhaps none was sweeter than watching Fredi Kanoute score with an acrobatic bicycle kick with one of his first touches of the game for his new club. Add that to Tarrico's spectacular equalizer, and Tottenham's extended periods of flowing football and superior possession, and it all added up to a team that we can finally be proud of."
The Spur's preview of that long ago match, before Leeds were relegated, said: "Three years ago Leeds were one of the big spenders, then the cash ran out and the debts mounted. Unlike Chelsea, they have no sugar daddy with unlimited resources, so big stars including Rio Ferdinand, Harry Kewel, and Oliver Dacourt have been sold. Despite shrewd freebie acquisitions like Morris, Camara, and Dodi, Leeds' days as shadow championship contenders, tucked behind Man U and Arsenal at the top, are over. Consolidation is the name of the game now.
---